Undernews
Online report of the Progressive Review. For 51 years, the news while there's still time to do something about it.
September 4, 2015
Political Wire
Guardian -
At 62.6%, the US labor force participation rate is actually the joint-lowest rate since 1977.
That helps explain how the unemployment rate has dropped so much -- as it doesn't include Americans who have dropped out the jobs market.
September 3, 2015
The GOP has tightened its race against Democratic candidates. Clinton is statistically tied with Trump, Carson and Rubio. She is 5-7 points ahead of the other candidates. Biden is statistically tied with Carson but would beat Trump by 9 points. Sanders is statistically tied with leading GOP candidates except for Carson, whom he trails by 6

In our moving average of recent polls: With 32 points Trump leads Carson by18 points, Bush by 23 points, Huckabee, Rubio, Walker, Fiorina and Cruz have 5-6. Biggest recent gainer is Carson.
Pioneer Press -
A Dakota County sheriff's officer allegedly caught two Minnesota lawmakers "making out" in a parked car last week, according to law enforcement reports and court records, but the lawmakers say that accusation is "completely false" and a "lie."
State Rep. Tim Kelly, R-Red Wing, and Rep. Tara Mack, R-Apple Valley, were issued citations for causing a nuisance on Aug. 25.
The two, who are married to other people, were in Lebanon Hills Regional Park in Eagan when they were allegedly spotted by the officer 'making out' in a parked car around 4:30 p.m., according to documents. The officer's notes claim Mack was half undressed when he approached the vehicle.
Kelly, 51, and Mack, 32, say none of that is true. Kelly said he had had simply met Mack to receive some documents when an officer approached their vehicle about a parking violation....
US News -
The Kentucky county clerk facing potentially stiff penalties for refusing to issue same-sex marriage licenses has been married four times, raising questions of hypocrisy and selective application of the Bible to her life.
The marriages are documented in court records obtained by U.S. News, which show that Rowan County Clerk Kim Davis divorced three times, first in 1994, then 2006 and again in 2008.
She gave birth to twins five months after divorcing her first husband. They were fathered by her third husband but adopted by her second. Davis worked at the clerk's office at the time of each divorce and has since remarried.
Davis has described her desire to strictly adhere to the Bible in stark terms and thus far has shown no sign of bending to court orders on same-sex marriage. She said Tuesday she fears going to hell for violating "a central teaching" of the Bible if she complies with the orders.
The leader of the organization providing her legal representation, Mat Staver of Liberty Counsel, says he's not sure precisely how many husbands Davis has had, but that it's not relevant.... Staver says "it's not really relevant, it's something that happened in her past" and that her conversion to Christianity about four years ago wiped her slate clean.
Shadowproof -
A new study published by the Columbia Law School Sabin Center for Climate Change Law [
PDF
] found US jails and prisons grossly unfit for dealing with rising temperatures, which place inmate and staff health at risk. The study urged policy makers and administrators to begin taking steps to prepare for heat waves associated with climate change.
Extreme heat is the most common weather-related cause of death in the US, and prisoners are no exception.
Facilities in America's vast prison system vary in size, age, architecture and security level. They are are also constructed from a wide range of materials and have distinct layouts, complicating adaptation planning.
This legislation marked an early major shift by Democrats in turning their backs on the New Deal and Great Society. Becoming Republicans Lite, they have had little to offer of substance in opposition to the GOP.
Moyers & Company -
A new book by two of our nation's foremost poverty researchers, Kathryn Edin and H. Luke Shaefer, reveals the desperate circumstances that hundreds of thousands of children and their parents increasingly face: living with virtually no cash income in an economy that requires it to meet nearly every human need.
In
$2.00 a Day: Living on Almost Nothing in America
, Edin and Shaefer trace this disturbing trend to the 1996 welfare law, which has gradually but inexorably gutted the cash assistance safety net for families with children. Attention to this often neglected side of our nation's extreme economic inequality is especially timely as policymakers from both parties consider reauthorizing the 1996 welfare law. As the book vividly shows, we are long overdue to take a different path — one that upholds our nation's values, including our responsibility to protect and empower the most vulnerable by eliminating extreme poverty....
Through rigorous data analysis and in-depth interviews, Shaefer and Edin document the dramatic rise in extreme poverty since the 1996 welfare law. Similarly, research by the Center on Budget and Policy Priorities confirms a rise in "deep poverty" — income below half the poverty line, or below roughly $10 per person per day for a typical family — and shows that Temporary Assistance for Needy Families, created in 1996, reduces deep poverty far less than its processor, Aid to Families with Dependent Children. Research shows that early childhood poverty causes short- and long-term harm, in turn posing enormous costs to our economy.
...When policymakers supposedly shifted to a work-based safety net in 1996, they didn't ensure that there would be enough decent jobs for everyone who wants one. While President Clinton's proposed welfare overhaul in 1992 guaranteed a public-sector job for anyone who couldn't find one, the 1996 law had no such guarantee. Both the labor market since 2000 and the experience of the successful but short-lived TANF subsidized jobs program in the Great Recession have made clear that many more people want jobs than can find them, in good times and bad.
Daiy Mail, UK -
he FBI has admitted to gathering secret intelligence about the annual Burning Man festival since 2010.
In response to a request under the 2012 Freedom of Information Act, the security service said its Special Events Management unit has kept files on festival-goers, known as 'burners' - to 'aid in the prevention of terrorist activities
and intelligence collection'.
But the FBI's 16-page response to the question by Inkoo Kang is heavily redacted, with information about the technology being used to secretly gather the information being blanked out.
The FBI said its involvement was 'even more critical in the light of the ongoing war on terrorism and the potential for additional acts of terrorism being committed in the United States.'
But later the FBI warns: 'The greatest known threat in this event is crowd control issues and use of illegal drugs by participants.'
Independent, UK -
It might be time to purge your Facebook friends list of people you don't trust.
A patent acquired by Facebook states that users could be denied a loan based on the credit-worthiness of their connections online.
Facebook bought a bundle of patents from Friendster for $40 million in 2010. The patent in question is intended to prevent spam, however it also contains the following paragraph:
"In a fourth embodiment of the invention, the service provider is a lender. When an individual applies for a loan, the lender examines the credit ratings of members of the individual's social network who are connected to the individual through authorized nodes. If the average credit rating of these members is at least a minimum credit score, the lender continues to process the loan application. Otherwise, the loan application is rejected."
Another way: users could be denied a loan because their Facebook friends have defaulted on theirs.
Wshington Post -
Scores on the SAT have sunk to the lowest level since the college admission test was overhauled in 2005, adding to worries about student performance in the nation's high schools.
The average score for the Class of 2015 was 1490 out of a maximum 2400, the College Board reported Thursday. That was down 7 points from the previous class's mark and was the lowest composite score of the past decade. There were declines of at least 2 points on all three sections of the test — critical reading, math and writing.
The steady decline in SAT scores and generally stagnant results from high schools on federal tests and other measures reflect a troubling shortcoming of education-reform efforts. The test results show that gains in reading and math in elementary grades haven't led to broad improvement in high schools, experts say. That means several hundred thousand teenagers, especially those who grew up poor, are leaving school every year unready for college.
Washington Post -
Despite promises for widespread reform, nearly 900,000 military veterans have pending applications to access health care from the Department of Veterans Affairs, the department's inspector general said Wednesday in a scathing report which recommended a total overhaul of their record-keeping system that could take years.
One-third of those veterans are thought to be dead, but problems with the data makes it tough to know how many former troops were still struggling to get care, the report says. VA has said it has no way to purge the list of dead applicants.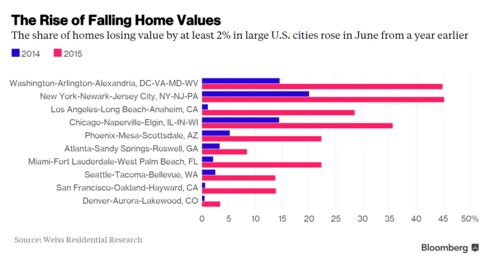 Almost half of single-family houses in the New York and Washington metropolitan areas are losing value, a sign that buyers' tolerance for high prices in many large U.S. cities may be reaching a limit.
A steady rise in U.S. home prices since the bottom of the market combined with weak income growth has made housing less affordable, especially in big cities. Credit remains tight and demand is now being driven primarily by buyers dependent on mortgages, as foreign buyers and investors pull back from the market.
The Center for Court Innovation has created

community court projects in a variety of New York City

neighborhoods, including midtown Manhattan, Harlem,

the Bronx, Brownsville, and Red Hook, Brooklyn. (There

are several dozen community courts outside of New

York as well.) Each of these projects is unique, but

most focus on creating alternatives to incarceration

for misdemeanor offenses. And they all share a goal of

engaging the public in doing justice and restoring local

trust in government. Police typically play a significant

role in the planning and implementation of community

courts. Moreover, the availability of social services

and case management in a trusted location provides

police with additional tools for dealing with street

problems and tricky populations—a place to bring in

troubled teens or mentally-ill homeless people without

necessarily making an arrest.

The National Center for State Courts recently

conducted an independent evaluation of the Red Hook

Community Justice Center that documented that the

project was able to change the behavior of offenders

(reducing reoffending by adult defendants by 10

percent and juvenile defendants by 20 percent) because

it significantly improved perceptions of legitimacy.


Promote procedural justice
Rather than processing cases

like widgets in a factory, we have encouraged justice

system players (attorneys, clerks, judges, court officers,

etc.) to treat defendants as individuals.

This includes

communicating in plain English (rather than using

abbreviations and legal shorthand), making eye

contact, offering clear explanations of the rationale

for official decisions, and providing opportunities for

defendants to tell their side of the story, both in and

out of the courtroom. (For example, we have created

a peacemaking program that uses a non-adversarial

approach adopted from Native American traditions to

resolve selected cases.)
The

strongest predictor of reduced future criminality was

the attitude of defendants towards the judge—drug

court participants were more likely to view their judge

positively and thus more likely to be law-abiding.
It would be a worthwhile

investment to create similar training regimens for

police departments around the country to improve the

communication skills of officers as they tackle some of

the most common types of interactions with the public,

including making traffic/street stops, interviewing

witnesses, and providing security at large community

events.
Facilitate informal interactions

between police and local residents
Our operating projects have employed a variety of formal

mechanisms to engage local residents and justice system

actors in meaningful joint work—advisory boards,

community service projects, "call-in" forums, police-teen

dialogues, etc. Police departments that have not created

such mechanisms should be encouraged to do so.

As important as it is to establish formal vehicles

for community input, feedback, and partnership,

our experience suggests that creating opportunities

for positive, informal interactions between justice

professionals and community residents is just as, if not

more, meaningful. For example, our operating programs

have launched a variety of unconventional activities— holiday toy drives, little league baseball leagues, youth

photography exhibits— where justice professionals have

the chance to interact with local residents, particularly

young people, in more informal settings. Informal

interactions can help break down barriers, challenge

misconceptions, and address tensions.

Engaging police

in these kinds of informal connections can go a long

ways towards promoting healthier community relations

and encouraging citizen involvement in the justice

system (as witnesses, jurors, etc.).
Invest in alternatives to incarceration
W
e must tackle

the problem that hangs over the criminal justice system:

the misuse of incarceration that has proceeded mostly

unabated for more than a generation.

While the police are not, of course, responsible for

mass incarceration, as the most visible representation

of the justice system they bear the brunt of the ill will that mass incarceration has engendered. Efforts to improve police-community relations must be

accompanied by serious efforts to reduce the use of local

jails and prisons. The public must understand that the

entire apparatus of the justice system is not designed

to ensnare them in incarcerative settings, and that,

to the contrary, jail and prison are viewed by justice

professionals as a last resort, reserved for the most

incorrigible and high-risk of offenders.

This means that local police should take pains to

invest in crime-fighting strategies that do not lead to

increased arrests. For example, we are currently working

with the NYPD to create police diversion programs in

several pilot precincts, providing line officers with opportunity to divert minor cases involving teenagers

to community-based programs in lieu of formal case

processing.


Think about design
A whole host of environmental factors—the cleanliness

of a waiting area, the language used on forms, the

images used on signage—contribute to citizens'

perceptions of the justice system. At our operating

programs, we have tried to use design to advance the

goal of improving public trust in justice.

For example, at the Midtown Community Court, we

have designed the courthouse to be welcoming to the

public while at the same time communicating respect

for the law. The courtroom design includes the use of

light finishes (rather than the dark wood that is typical

in courthouses) and a judicial bench that is raised just

enough to allow the judge to see eye-to-eye with most

defendants (rather than looking down on the top of

their heads). Perhaps most important, the facility's

holding cells do not have any bars—specially treated

glass is used instead..

Many of the ideas that we have tested in courts

can be adapted to police uses. What do citizens

experience when they first walk in the door of a local

police precinct: a welcoming, informative sign or a

tattered, poorly mimeographed reprimand? Are rules

clearly posted and easy to read? When was the last

time that commonly-used forms (e.g. summonses)

were reviewed for comprehensibility? Is information

provided in commonly spoken languages other than

English? Are public areas clean and well-maintained?

What kind of seating is provided for the public?


Focus on victims
While all victims deserve special attention,

in recent years, the Center for Court Innovation has

attempted to focus on two populations in particular that

have been underserved by the justice system.

The first population is young men of color. In an

effort to address their unique needs, we have launched

a special program in Crown Heights, Brooklyn, to

help participants address trauma reactions and other

difficulties that arise from the disproportionate amount

of violence they experience as victims and witnesses.

The second population that we have been working to

serve better are victims of human trafficking, many of

whom are arrested on prostitution charges. Here, we

have been working with courts in New York to improve

identification and to develop alternative sanctions so

that victims do not end up being penalized with jail

sentences and criminal convictions.
A couple of years ago, the Center for Court

Innovation conducted a national survey of criminal

justice leaders in an effort to determine the extent

to which criminal justice agencies were willing and

able to engage in a process of trial and error. Several

dozen police chiefs participated in the survey. While we

learned that there was a great deal of interest among

criminal justice leaders in learning about the latest

research and evidence-based programs, we were also able

to document some common obstacles to innovation. In

addition to concerns about funding, among the most

common barriers cited were: "the stakes are too high to

test brand-new ideas" and "trying new things could cost

me my job if they are unsuccessful".

War is God's way of teaching Americans geography - Ambrose Bierce
Sam Smith -
One of the advantages – and pleasures – of having lived most of my life in Washington DC is that you experienced, absorbed, enjoyed and comprehended the great complexities of ethnicity. As I listen to the current national debate on the matter – led by the neo-segregationists on one side and liberals taking selfies of their virtue on the other, I find myself wishing I was back in DC dealing with such matters in terms of specific people, communities and issues rather than as endless conflicting grand abstractions.
As I wrote in The Great American Political Repair Manual 18 years ago:
It is hard to imagine a non-discriminatory, unprejudiced society in which race and sex matter much. Yet in our efforts to reach that goal, our society and its institutions constantly send the conflicting message that they are extremely important.
For example, our laws against discriminatory practices inevitably heighten general consciousness of race and sex. The media, drawn inexorably to conflict, plays up the issue. And the very groups that have suffered under racial or sexual stereotypes consciously foster countering stereotypes -- "you wouldn't understand, it's a black thing" -- as a form of protection. Thus, we find ourselves in the odd position of attempting to create a society that shuns invidious distinctions while at the same time -- often with fundamentalist or regulatory fervor -- accentuating those distinctions.
In the process we reduce our ethnic problems to a matter of regulation and power, and reduce our ambitions to the achievement of a tolerable stalemate rather than the creation of a truly better society. The positive aspects of diversity remain largely ignored and non-discrimination becomes merely another symbol of virtuous citizenship -- like not double-parking or paying your taxes.
In DC there was no way to talk about ethnicity without someone saying, "Yes, but. . ." I learned that over a half century ago when a black Howard University professor told me about integrating a bowling team. The problem was that now he felt he had to go bowling whether he wanted to or not. What he had really been fighting for, he realized, was the right to be as bad a bowler as everyone else. Seeking equality in unreliability.
Consider some little known ethnic facts such as that DC, along with Maryland and Louisiana, are among the few locales with significant numbers of black Catholics, the present mayor and her predecessor among them.


A group, DC Black Catholics, gives some of the history:
During the days of slavery in the United States, two slaveholding states, Maryland and Louisiana, both had a large contingent of Catholics… The Society of Jesus owned a large number of slaves who worked on the community's farms. Realizing that their properties were more profitable if rented out to tenant farmers rather than worked by slaves, the Jesuits began selling off their slaves in 1837. In 1839, Pope Gregory XVI issued a Bull, entitled In Supremo. Its main focus was against slave trading, but it also clearly condemned racial slavery: "We, by apostolic authority, warn and strongly exhort in the Lord faithful Christians of every condition that no one in the future dare bother unjustly, despoil of their possessions, or reduce to slavery Indians, Blacks or other such peoples."
However, the American church continued in deeds, if not in public discourse, to support slaveholding interests. Some American bishops misinterpreted In Supremo as condemning only the slave trade and not slavery itself..

During the Civil War, American bishops continued to allow slave-owners to take communion. Pope Pius IX made no secret of his affinity for the Confederacy, and the American hierarchy was so fearful of local schisms that the bishops were reluctant to speak out on behalf of abolition. African-American Catholics eventually operated largely as segregated enclaves. They also founded separate religious orders for black nuns and priests since diocesan seminaries would not accept them.
Saint Augustine Parish traces its heritage to 1858 and the efforts of a group of dedicated emancipated Black Catholics.

Faced with a society that was not yet willing to put off the last vestiges of slavery and a Church that, at best, tolerated the presence of Black people in its congregation, these men and women founded a Catholic school and chapel on 15th Street under the patronage of Blessed Martin de Porres.

In what is perhaps a touch of historical irony, this school was operating four years before mandatory free public education of Black children became law in the Nation's Capital.
And in 1949 – five years before Brown v. Board of Education Archbishop Patrick O'Boyle integrated the city's Catholic schools. One of my friends with Irish roots remembers that while he was there, his basketball team could only play Catholic schools or black public schools.
This is just one example of how Washington's history doesn't favor ethnic cliches. Another is the fact that the city had a significant number of free blacks going back to the early 19th

century. Their descendants would share a town with those whose ancestors were slaves or who came to the city from the South in the 1950s and 1960s. In the 1960s, working in

SNCC, I became aware of the hostility of some older black residents towards young black activists who were threatening the quid pro quo they had established with the white government and establishment. But if you studied this older subset you also found a remarkable heritage of cultural survival.
Or consider that in that in the 1960s black and white middle class homeowners came together to begin an ultimately successful fight against a proposed freeways system that would have turned DC into an east coast LA. Or that just a few years after I had sat in a room at SNCC as Stokely Carmichael declared that we whites were no longer welcome in the civil rights movement, I found myself working with others to create a biracial third party that would hold a seat on the city council and/or the school board for a quarter century.
If

such

tales seem a

little odd – even

irrelevant – in today's environment it's because our discussions of ethnicity have little room for complexity, or even for interesting accounts of progress. With the help of the corporate media, we prefer to stick to simple issues and grim prognostications.
But it is in true stories and real relationships that we actually find what we have in common with others. Part of the story of places like DC is that blacks and whites – even under segregation – lived close enough physically to learn each other's real sins and virtues. One small symbol of this was Odessa Madre – the nearest DC ever had to a mob boss, who controlled drugs, prostitution and numbers. Part of her success was that she had grown up near Irish kids some of whom became the city's cops.
If we want to get along better with others, it would also help if we celebrated the multicultural experience more than we lecture or scold others about it.


.In The Great Political Repair Manual I tried to suggest this
I'm a native Washingtonian and have lived in DC most of my life. DC is two-thirds black. When someone asks me where I live and I tell them, they sometimes look at my fifty-something white face and say, "You mean in the city?" What they mean is: with all those blacks?
I don't live in DC out of any moral imperative. I'm not doing anybody except myself a favor. I live here because I enjoy it. Beside, I'd rather be in the minority in DC than in the majority in a lot of places. Here are a few reasons why:
I've found black Washingtonians exceptionally friendly, decent, hospitable, and morally rooted. They're nice folks to be around.
Black Washingtonians will talk to strangers without knowing "who are you with?" White Washingtonians, especially in the political city, are often far more formal and distant. – and more likely to treat you based on your utility to themselves.
Black Washingtonians understand loss, pain, suffering and disappointment. They have helped me become better at handling these things.
Black Washingtonians value humor; many white Washingtonians try (as Russell Baker once noted) to be somber under the illusion that it makes them serious. I like to laugh.
Black Washingtonians value achievement as well as power. Teachers, artists, writers and poets are respected in the black community. As a writer, I like that.
Living in close proximity with another culture provides a useful gauge by which to judge one's own.
The imagery, rhythm and style of black speech appeals to me far more than the jargon-ridden circumlocution of the white city.
Many black Washingtonians are actively concerned about social and political change; much of white Washington is seeking to maintain the status quo.
White Washington always seems to want me to conform to it; black Washington has always accepted me for who I am.
This is not the way we have been taught to think about cross-cultural relations. But until we view them as an asset to be fostered rather than as an endless problem to be mitigated and regulated, we will continue to define them by their failures rather than their successes.
And we'll miss out on a lot of fun